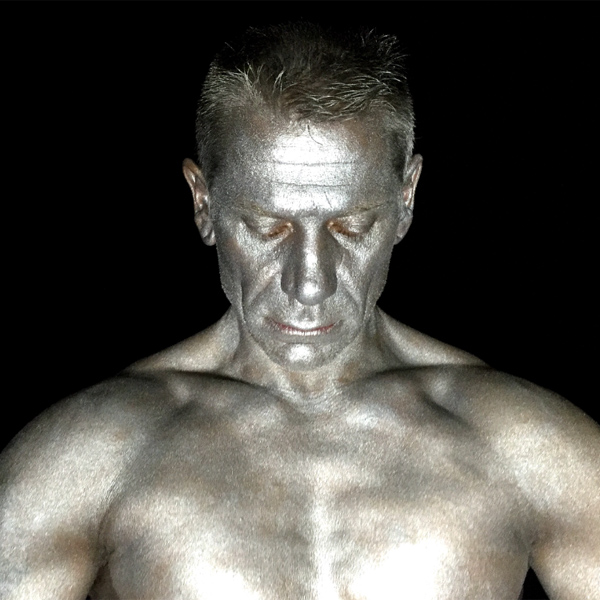 Kunst kann man nicht lernen, man trägt sie in sich oder nicht!
PELE
Der 1969 geborene Künstler, mit bürgerlichem Namen Simon Pele Groß, hat schon sehr früh in Gegenständen Kunst gesehen und seine Liebe zu abstrakten Formen entdeckt. Im Alter von 5 Jahren, hat er mit seinem Vater Möbel und Gebrauchsgegenstände entworfen und konstruiert. Dabei erlernte er die Verarbeitung von Holz, Kunststoffen, Glas und andere Materialien. Kenntnisse der Metallverarbeitung, wie z.B. bohren, schmieden, biegen, schneidbrennen und schweißen, erwarb er sich in seiner Ausbildung zum Mechaniker für Versorgungstechnik. Die ersten Werke entstanden 1985-1990 im Keller der Eltern. Dies war gefährlich, da der Platz für das gesammelte Material und die halbfertigen Werke den Raum zum arbeiten immer kleiner werden ließ. 1990 wurden die Arbeiten wegen Brandgefahr eingestellt. Erst 2003 ergab sich wieder die Möglichkeit seinen Traum weiter zu verwirklichen. Von nun an konnte er in einer Werkstatt an seinen Skulpturen weiterarbeiten. Trotz eines Brandes und einem Umzug der Werkstatt, könnte er weiterhin seiner Passion nachgehen. Obwohl er immer lange Unterbrechungen in der Bearbeitung seiner Werke hatte, hat er die Fertigstellung nie aus den Augen verloren.
Ich fertige auf Ihren Wunsch auch Kunstwerke an. Diese geht natürlich nur nach einem persönlichen kennenlernen.
Danksagung:
Mein größter Dank gilt meiner lieben Frau!
Und des Weiteren: Andreas S. Pat Z. Olaf A. Marco W. Dennis M. Und bei allen anderen Befürwortern meiner Kunst.
…………………………
English Version
About PELE

   Art cannot be learned; you either have it or you don't!

PELE
The 1969-born artist, whose real name Simon Pele Gross, has from an early age, developed an appreciation and talent for art, and specifically, an affiliation for the abstract. Already from the tender age of five years, his was exposed to the creation and design of furniture and accessories by his father. He learned the processing of wood, plastics, glass and other materials. During his training as a mechanic for an engineering firm, he further acquired and developed knowledge of metalworking, such as drilling, forging, bending, cutting and welding. His first works were created during the period 1985 to 1990 in the basement of his parents' house. As his collection of materials and completed works grew the space became cramped and hazardous. Thus in 1990 work was halted due to fire hazard. After a long pause, in 2003, he started to realise his dream once more. He was able to work on his sculptures in a proper workshop. Despite a fire and a subsequent relocation of the workshop, he was able to continue to pursue his passion. Although he has had long interruptions in the creation of his works, he has never lost sight of his ambition.
NOTE FROM THE ARTIST:
At your request, I am also happy to commission custom art pieces after personal consultation with you.
With thanks:
With grateful thanks  to my dear wife,
and further appreciation to Andreas S., Pat Z., Olaf A., Marco W., Dennis M. and to all other supporters of my art.